Published Cook Book :: Food Photography by Maria Scott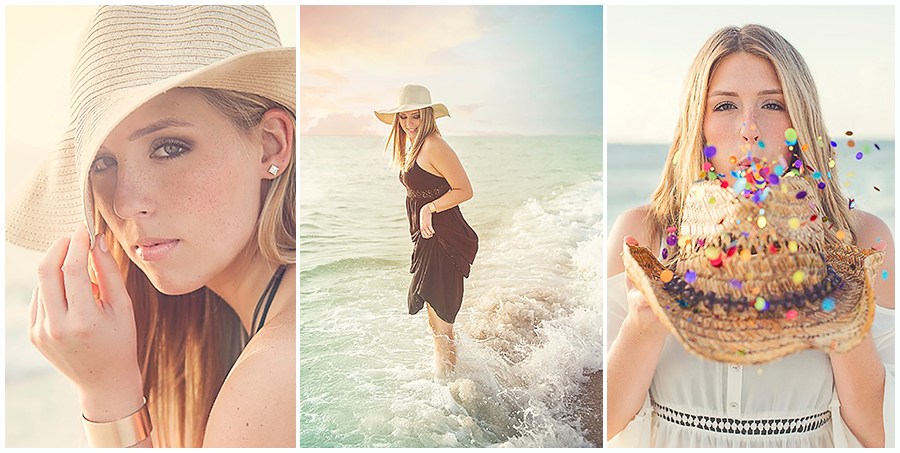 Tips for Posing a Senior Girl
Natural light at the golden hour, especially at the beach, is so beautiful!  It's my favorite time and place to bring my clients who want exceptional images.
I'm fortunate to live only a few miles from Clearwater Beach & North Beach, so that is the location for most of my photo shoots.  No matter what time of year it is, the gorgeous sunsets are the perfect backdrop against the clear blue water.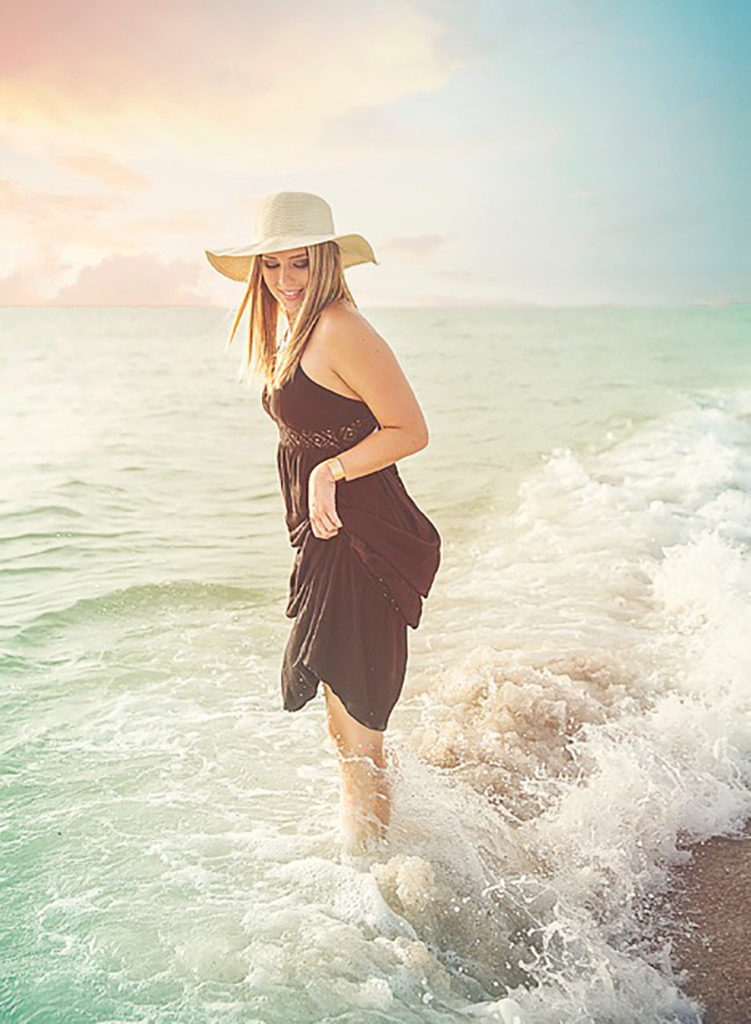 For this image, I wanted to capture Alyssa having fun while playing in the water.  I had her stand at the waters edge and told her to lift her dress up a bit when the waves came toward her and look down at the water.  She nailed it on the first try.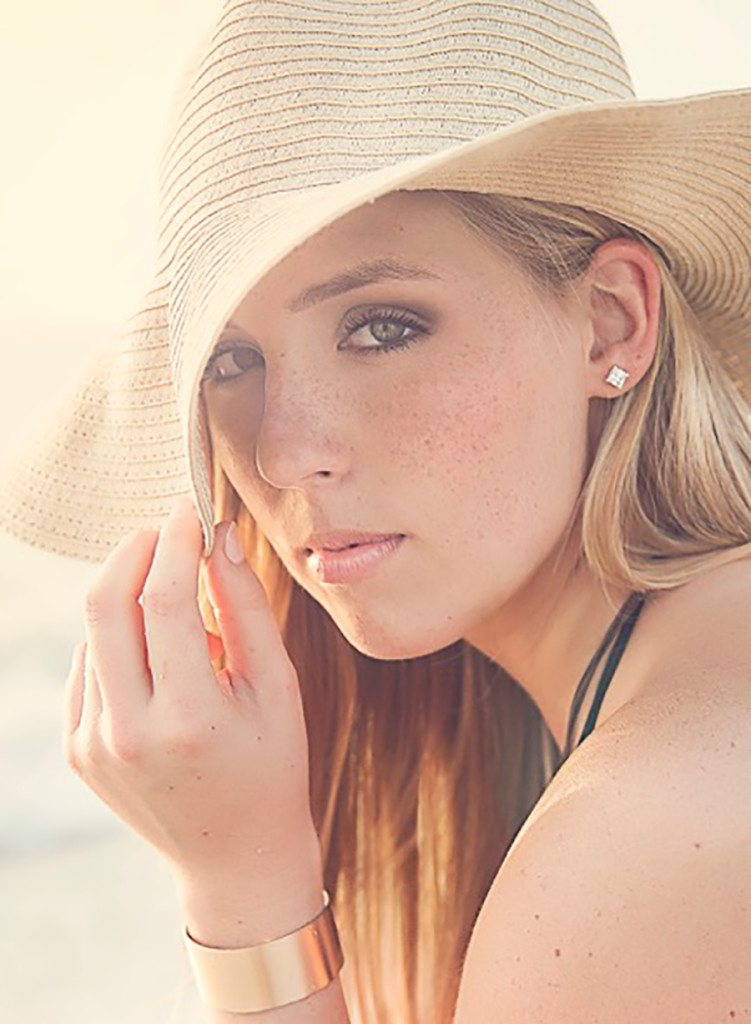 For this image, I wanted more of a model/glam shot so I had her bend down on the sand, turn her head towards me and tip her hat to barely cover her eye.  I wanted more of a serious look so I told her not to smile and to just give me a sexy look.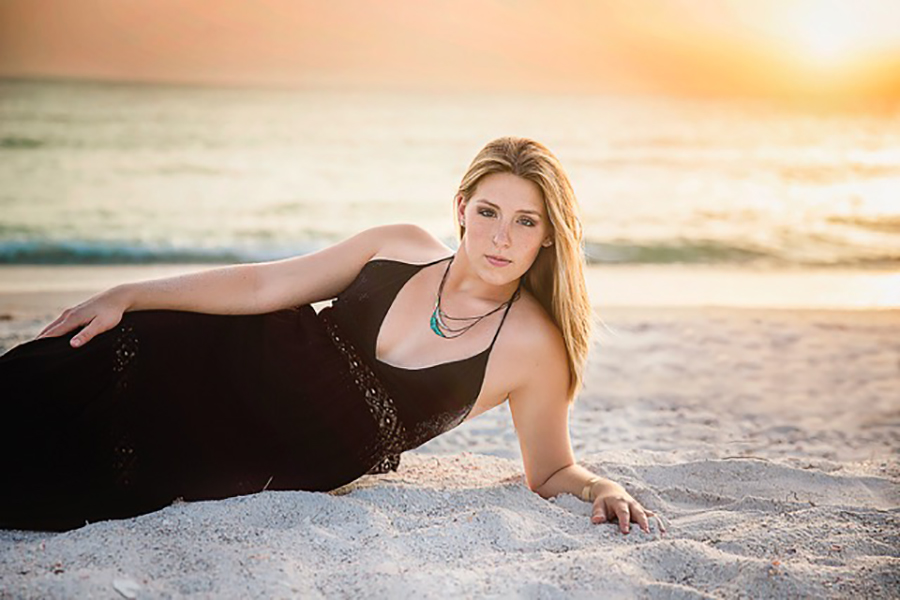 We were at the beach as the sun was setting and I wanted to capture the beautiful Florida sunset in this image.  I had her lay on her side with her back towards the sun and move all of her hair to one side.  I suggested we go for another serious look, and once again, she nailed it.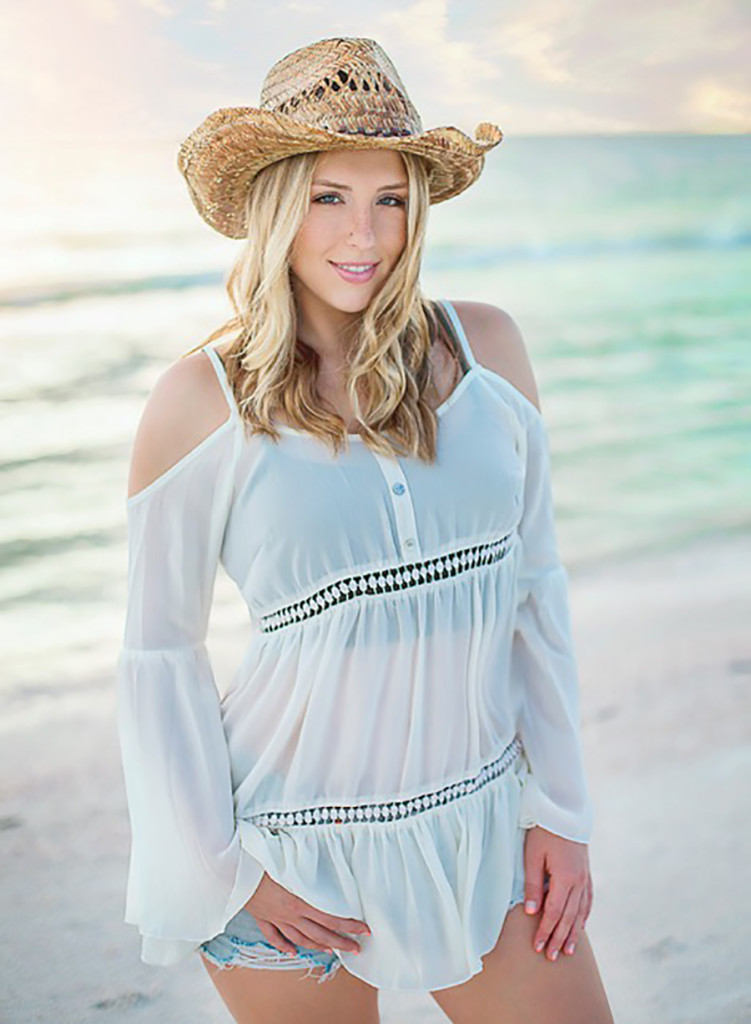 Alyssa mentioned she had cowboy boots and a cowboy hat that she'd love to wear for a few shots and I was thrilled!  I knew exactly how I wanted this pose to look – it reminds me of a cowgirl standing with her hands on her guns at her side. This is one of my favorite images of her.
Sticking with the cowboy theme here, I had her put her fingertips up to her hat as though she was tipping it say "Howdy".  I faced her toward the setting sun to get great golden natural light.  Crouching down and turning her head slightly towards me worked like a charm.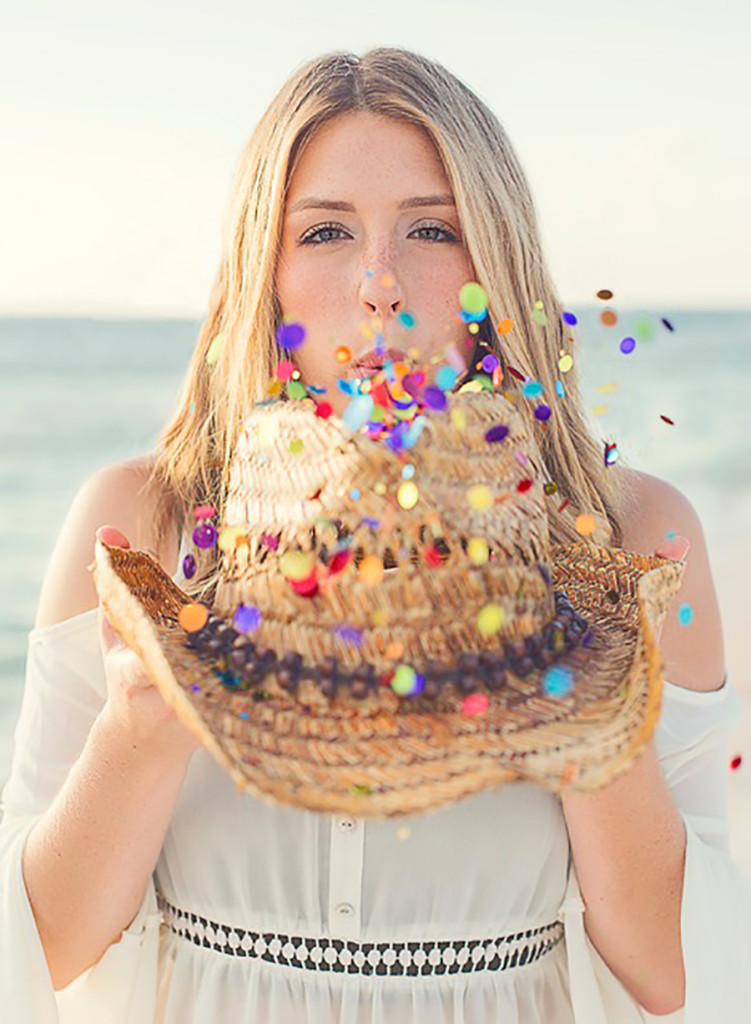 I always keep metallic glitter in my camera bag, so when I saw that hat, I knew I had to do this shot!  We just poured some glitter onto the top of the hat and I had her blow gently towards me.  So fun!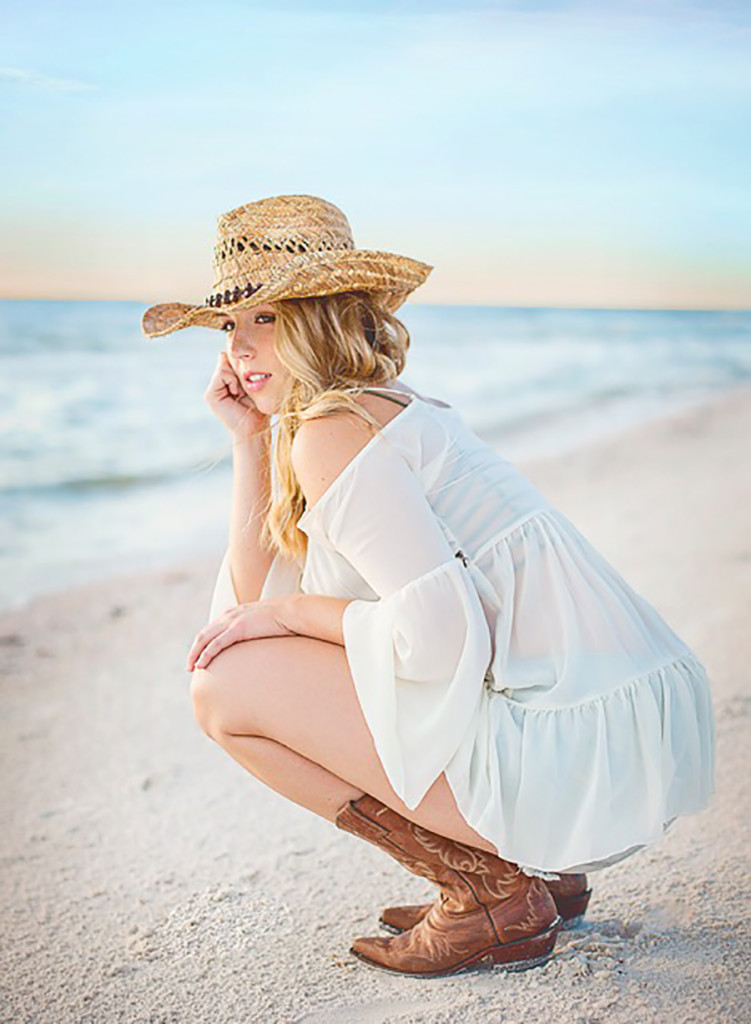 I wanted a shot that showed her boots, but I also wanted something to show her looking down at the beach and daydreaming.  We were able to accomplish both with this pose as she was facing the sunset.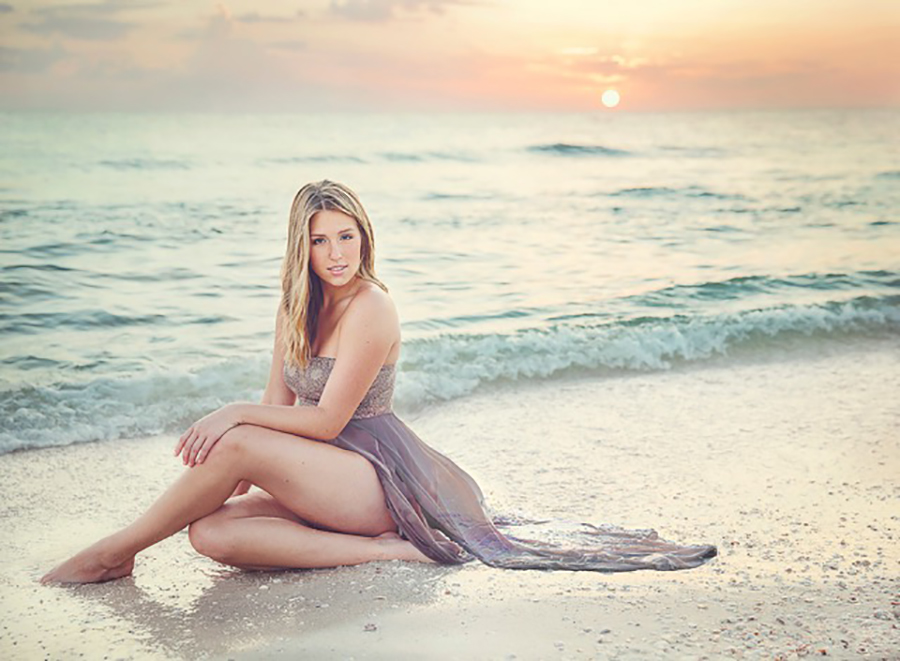 The sun was just about to set and Alyssa wanted to get in the water with her flowy dress.  Since I wanted to be able to see the dress and not have it get lost in the water, I asked her to sit at the edge of the shore.  I was looking to do something sexy with this image so I had her sit in this pose to show off her beautiful legs.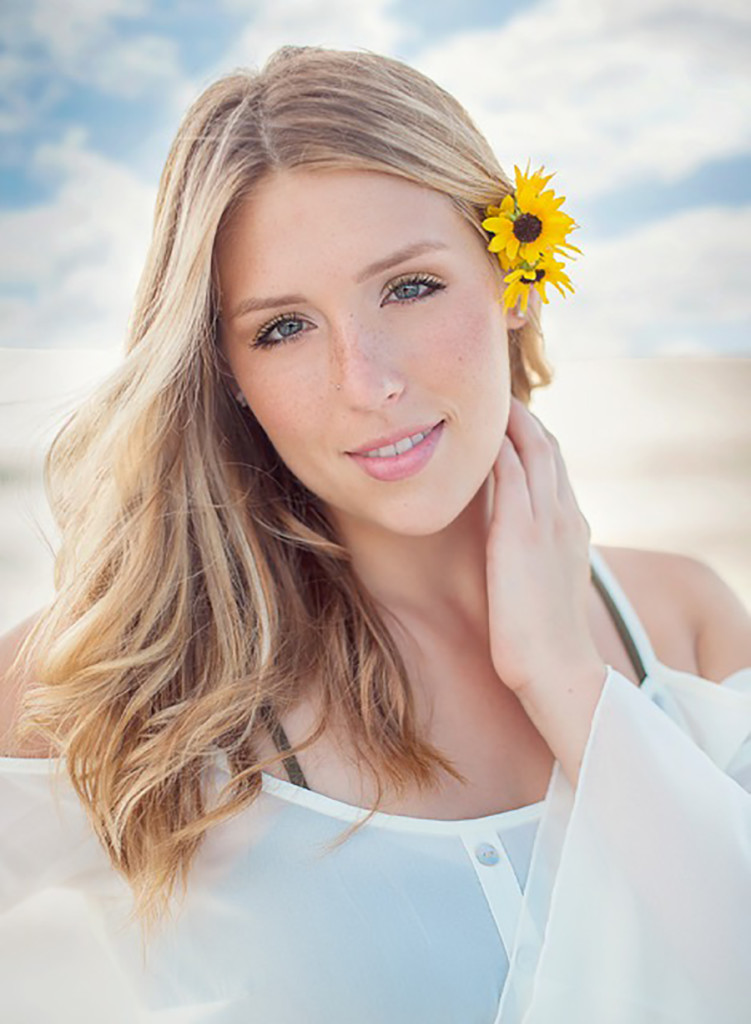 Alyssa loves flowers.  On our walk from the car to the beach, she spotted some wildflowers and picked a few.  She asked if we could put them in her hair for a few shots. This is one of my very  favorite images of her.  Asking her to gently put her hand on her neck and tip her hat a bit resulted in a soft organic type of shot that reflects her love of nature.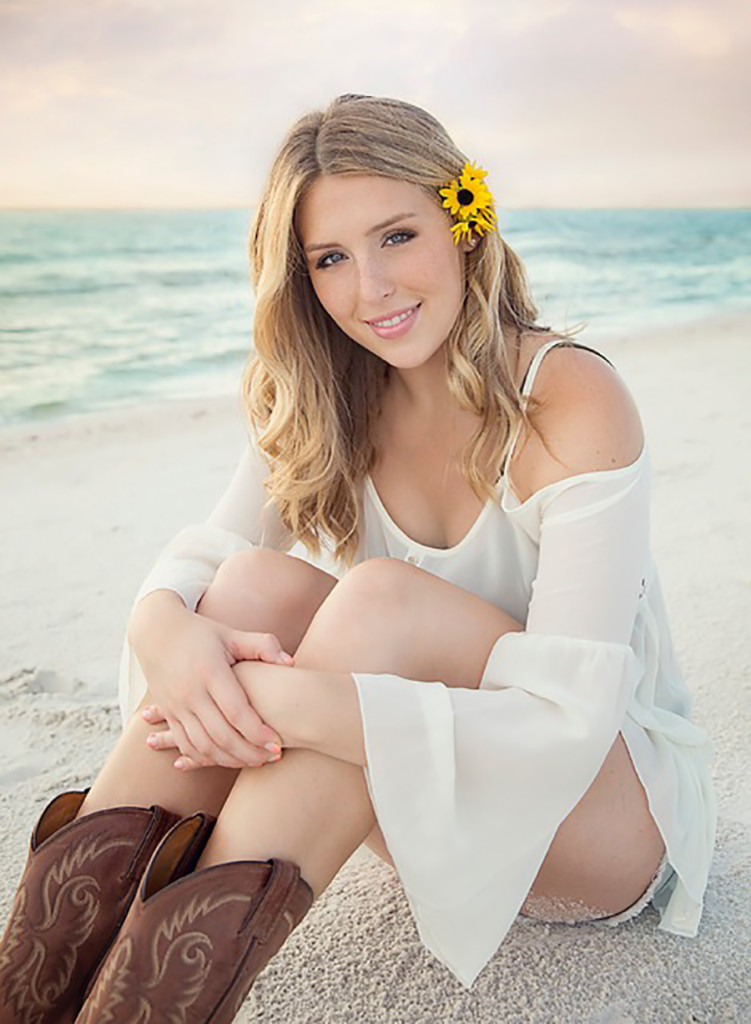 Here is another shot with the wildflowers which also shows off some of her boots.  I wanted side light from the sun so I had her sit with her side towards the ocean and prop up her legs a bit.  It was just natural for her to put her hands across her legs, which made for a great, relaxed looking pose.
ABOUT MARIA SCOTT
I've been interested in photography for as long as I can remember.  In fact, some of my fondest memories are of those days when as a young child, I would sit on my parents' bed playing with the "really neat" cameras they thought they had safely stashed away.  From a classic 1947 Kodak that my mom bought for my dad when they were dating, to an iconic 1970 Polaroid that was state-of-the-art at the time, they all fascinated me…and still do.
But beyond the cameras themselves, what really intrigued me as I grew older was what they accomplished.  In the hands of a skilled professional, a camera preserves the essence of life by capturing a single moment in time and transitions that moment into a lifetime of cherished memories.
Today, as a professional portrait & lifestyle photographer, I follow my passion for photography and invest my time in preserving the true essence of life in all forms.  Blessed with an amazing family of my own, I use their love as my inspiration to create something special for my clients beyond the photographs themselves – to capture their moments and create valued treasures that last forever.
Photography is more than a profession to me.  It is my passion and purpose in life to help preserve those "special moments" for generations to come.  I'm reminded of this every time I see those old cameras that are in a very special place in my studio, and in my heart as well.
My studio is located at 770 N. Belcher Road in Clearwater, FL.